LELO Tips; How to Make a Sex Tape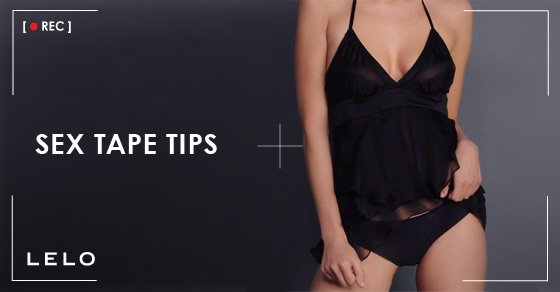 Have you ever felt like getting frisky on film? Sure, now that we've all got high definition cameras in our phones, a sex tape (or sex video – when was the last time you saw a movie on tape?) seems like a fun idea, doesn't it?
While you'd be correct in assuming that it's a lot of fun to do with the right person, there are of course things that demand to be considered, so before you hit 'record', check out our sex tape tips.

Avoid going viral
Chances are, the most common recording device you will have handy is your phone, so use exactly that – your phone. This will allow you to control exactly who gets to see your intimate material, and share it as you see fit, rather than become an internet sensation (unless you're into that sort of thing!).

For added security and peace of mind, try the 'delete and repeat' method, in which you record your steamy session, watch it together, and then delete it. This allows you to figure out the filming methods (angles, lighting, etc.) that work best for you, and giving you the chance to do as many takes as you want!

The right light
Everyone loves a flatterer, and this goes double when it comes to lighting. For your movie debut, go for a soft environment with some
candle lighting
, or turn down the dimmer switch if you have one. A movable lighting source like a candle is ideal, because you can place it exactly where you want the light to hit you for the sexiest effect.

Dress it up
Losing your inhibitions for the camera can be much easier if you're playing a role, so try a bit of dress up and get into character. Put on your most conservative dress and be the disciplinary schoolmarm scolding a very naughty (and totally age-appropriate) pupil, or dress up as a
sexy French maid
and work some overtime with the master of the house – you get the picture!
Have fun with it!
As with almost everything regarding sex, keeping an open mind and a sense of humor goes a very long way to your total enjoyment, and it will show in the final footage as well!