TOR™ 2: a True Couples' Sex Toy
Have you heard of TOR™ 2? If you haven't, it's time to get introduced to the incredible pleasures that thousands of men and women everywhere are sharing. From the blogosphere to the bedroom, people everywhere have been giving TOR™ 2 rave reviews on the supremely satisfying pleasures it has to offer.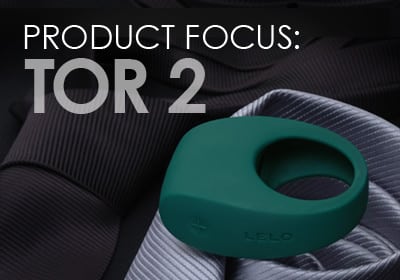 What is it?
A couples' ring – or a c-ring, or c*ck ring, depending on who you ask – is a flexible circle of material (preferably a body-safe material) worn by a man during lovemaking to enhance and extend pleasure for both partners.
TOR™ 2 is one such ring that contains a powerful motor capable of delivering strong sensations over 6 satisfying vibration patterns. Its ultra-flexible silicone ring fits men of all sizes, and is vacuum-sealed for easy, effective cleaning and underwater enjoyment to a depth of 1 meter.
Now that the technical details are out of the way, let's get down to what you really need to know:

What's in it for her
Depending on how he chooses to wear it during intercourse, TOR™ 2 will direct vibrations to the clitoris during lovemaking, and is powerful enough to channel those vibes down the length of his penis for added sensations.

What's in it for him
Wearing a flexible ring around his penis will constrict blood flow away from his member (safely and gently of course), which will not only result in a longer-lasting erection, but will give it a fuller appearance as well!

We know that we claim the last two benefits as being for him, but of course increased size and stamina are a sensual win/win for both partners!