MIA™ 2: the Discreet Lipstick Vibrator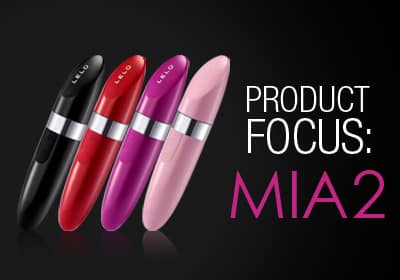 It's the purse-packable, travel-ready and ultra-convenient vibe that's small enough to go anywhere yet powerful enough to please everyone; MIA™ 2 is the go-to toy for women on the go and couples in the know when it comes to pleasure.
According to us and the overwhelming number of positive online reviews, our discreet-est, petite-est vibe MIA™ 2 is among the
best external massagers
available anywhere for reasons we're going to list here, but the rest you'll have to experience to believe!
Surprising Power
Despite being a tiny toy, MIA™ 2 packs some serious power, featuring the strongest motor to be used in a massager of its size. This comes down to the genius of LELO engineers who refined the design of the original MIA™ to accommodate new advancements in the motors we use, reflecting LELO's commitment to continuous improvement and innovation.

Your Sensual Secret
MIA™ 2 was designed with discretion in mind, and with a look that closely resembles a tube of lipstick, it goes unnoticed when packed in a purse or overnight bag. It's this incognito look that makes MIA™ 2 a huge hit among jet setters and in college dorm-dwellers everywhere.

Incredible Convenience
The allure of MIA™ 2 doesn't just come down to powerful pleasures and a stylish design; it's actually the first-ever vibrator to feature USB plug for more versatile charging. This not only makes MIA™ 2 ready to please at the drop of a hat, but makes for useful multitasking when you're waiting for a streaming video to load!

Whether you're a first-time vibrator buyer or the owner of many items of pleasure, solo or shared, MIA™ 2 is the LELO massager with crossover appeal!