Sex Tips; Using Toys in Your Tantra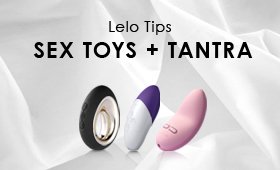 As a short explanation, Tantric sex is a slower type of lovemaking that awakens and alerts all of the senses to pleasure while emboldening the connection shared between partners.
The practice dates back thousands of years to ancient India, but that doesn't mean that modern amenities of intimacy – namely sex toys – can't be incorporated into your
Tantric sex
session.
The following advice on mixing sex toys with Tantric lovemaking is from none other than Devi Ward of
www.betterloveandsex.com
, who suggests a number of LELO items that can help to further steam up your experimentation with the Tantra, and all the pleasures that come with it.

Tantric Teasing
Ward suggests beginning your Tantric experience with Conscious Sensual Awareness Exercises using none other than our
Tantra Feather Teaser
.

A full-body application of our teaser's soft down feathers will excite the senses and raise your body's awareness and sensitivity to touch, and while this is a great exercise to do back and forth with your partner, it can also be done during solo play as well.

Making it Last
According to Ward, "Tantra sessions generally last for several hours, and high-quality, body-safe sex toys are essential for adding variety, enhancing pleasure, and creating longevity in your Tantric Sexual Practice."
When it comes to taking your time with these extended sexual sessions, Devi suggests the
TOR™ 2 vibrating couples' ring
to help him to go the distance, as "…using the ring around the base of his penis and scrotum helps him last longer while providing stimulation for her. This also allows partners to continue pleasuring other body parts with their free hands."

Solo was Never So Good
Tantric sex is not exclusively had with a partner, as Ward puts it; "Solo Tantra is different from conventional masturbation in that it can last for an hour or more, and the goal isn't to climax once and be done. The goal is to sustain pleasure for long periods of time by exploring ALL of your pleasure zones."
She goes on to recommend that women experimenting with solo Tantra should do so with more than one kind of toy, ideally to stimulate oneself for
external clitoral massage
and
internal G-spot stimulation
. When it comes to which LELO items are best suited for the purposes, she suggests handheld vibes like
SIRI™
,
LILY™
or
ALIA™
for massage on the external vulva, clitoris or nipples, and
MONA™ 2
or
Isla™
for massaging the G-spot and deep spots around the cervix.
Fun for the Fellas, Too
Not leaving the boys out of the experience, Ward has advice for men seeking higher planes of pleasure; "During solo practice a vibrator used around the pubic and testicle area can be highly pleasurable and sensual. It's also very important for men to massage their prostate regularly for sexual health and stamina, in which case a prostate massager like BILLY™ is essential. Men are actually capable of a number of different kinds of orgasm, and anal orgasms are among the most pleasurable!"