Tiani™ 2: The Sex Toy for Couples
Tiani™ 2 is among our most popular items that is loved by couples everywhere and it's no surprise why; when worn during lovemaking, it delivers intense and focused vibrations directly where they're wanted most.
Even more than this is the
award-winning vibe's
ability to be controlled via wireless remote, opening up a whole bunch of new possibilities for play as well as other activities you might not equate with pleasure. These wireless controllers not only feature a range that's farther than most wifi routers (36 meters, or 118 feet), but they also feature some functions that stand out from the rest.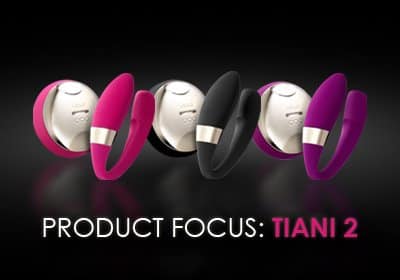 Tiani™ 2 features SenseMotion™ technology, which reads movement in the remote control and translates them into vibration patterns of your choosing – think Nintendo Wii, but way more fun! With it, you can wear Tiani™ 2 and hand the remote to your partner to dictate the pace of the action, or give him the controller in the middle of an evening out on the town or just during one of those mundane trips to the supermarket that's anything but!

As you see in the images here, Tiani™ 2 features a crescent-like shape made from body-safe silicone. It's super-flexible, and the thinner of the Tiani™'s two arms is worn in your vagina with the vibrating portion placed comfortably over your clitoris. This promises you even more fantastic sensations during lovemaking while leaving ample room for his and your comfort no matter what sexual position you find yourselves in!