A simultaneous orgasm is one of the most intimate and exciting things a couple can share during sex, yet like so many good things, it doesn't come easy.
But far from being some kind of impossible to reach pot of gold at the end of a glorious rainbow of near-misses, climaxing at the same time as your lover doesn't have to be the stuff of make-believe, as there are a few things you can do to boost your chances of synchronized success.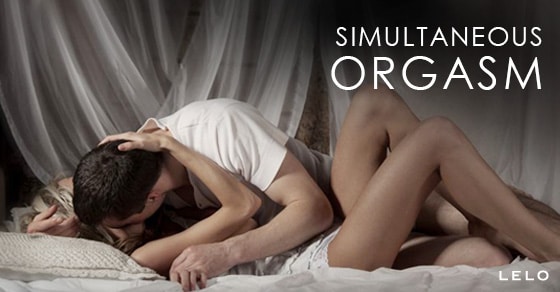 Try it in Round 2 – On average it takes men between three and five minutes to orgasm during sex, whereas for women it's more like 12 to 14, so the math doesn't really add up.
The possibility of you both climaxing together is therefore greatly enhanced later on in your love-making session, as having already had one orgasm himself, he should have – shall we say – slightly more stamina to help you both go the distance second time around.
Finishing Moves – There are many myths and facts about orgasms getting passed about the airwaves like some kitten-based viral video, but that certain positions make the whole thing easier is definitely not one of them.
The clitoris and G-spot are two of
a woman's most erogenous zones
so adopting positions that pay attention to these two areas is recommended, and doing so effectively should see you through to an explosive shared finish. Missionary, cowgirl and doggy style are particularly good to name a few, though the list itself is actually pretty much as long as you want to make it.
Use a Vibrator
– According to leading sex therapists, we should all
e
njoy multiple orgasm
s
, but the days of women enjoying their first orgasm using their fingers are long gone as nowadays more and more ladies are turning to vibrators for more effective results.
As you may or may not be aware, we at LELO are good and we always do as we are advised so whether it's clitoral or G-spot stimulation that works best for you, our brand new
couples' massager, Ida™
will help bring you both to the brink of an intense climax together.