Introducing a Sex Toy into Your Relationshipogether.
While some people may not be entirely familiar with the idea of using toys during lovemaking, they certainly add an exciting twist and a new dimension to your sex sessions and are the perfect way for fun-loving couples to increase intimacy while further exploring their relationship.
The introduction of a sex toy into your love life in no way means there is something wrong with it. In fact, if anything, it is quite the opposite but of course everybody is different, and hopefully you know how your partner will react better than anyone.
We at LELO know a thing or two about this and we're always more than happy to help.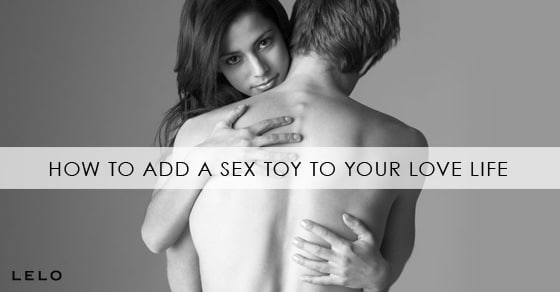 Talk it Over
Sure we all love a good dose of spontaneity in the sack, but when it comes to introducing a sex toy into the equation we recommend discussing it with your partner first before you actually do it.
Simply whipping it out mid way through your session may drive your partner wild with excitement – like we say, you know best – but it could also give them the impression that what he or she has been doing up until now hasn't been satisfying for you, which would almost certainly lead to a lengthy and probably mood-killing conversation.
Be Honest
Being open and honest with each other about what you want and why you want it will help you both to enjoy your new addition as it takes you to a whole new level of shared satisfaction.
Again this does not necessarily mean something was wrong in the first place, merely that you follow the LELO view that variety is the spice of life and we should all take time to sample a few fresh flavors.
Shop Together
If you think shopping for a holiday is a lot of fun, well, shopping for a sex toy is easily as good and enjoying the experience together is a great way to heat up the anticipation levels.
We suggest going with a product that excites both of you, depending on what you have in mind. Remember, sex toys can be used as a tantalizing twist to foreplay, an exciting extra to your love-making and as the perfect way to finish things off.
Share the Wealth
The days when sex toys were used just by women in secret have thankfully been banished to the history books, and while
the benefits of a little me time
will always hold a place in all of our hearts, the rise of the couples' toy has really added a new dimension to fun between the sheets for both him and her.
LELO's new
couples' massager, Ida™
, is the first ever to offer the shared combination of internal rotations and external vibrations while a
couples' ring like TOR II™
offers increased presence and stamina for him combined with amazing sensations for her.
Choose a LELO product that suits you both well and you'll wonder how you ever lived without it in the first place.